It is no secret that individual investors can enjoy great benefits from participating in the financial markets. We need only compare the total return over the past 25 years of the FTSE All Share Index, which represents the performance of around 600 companies traded on the London Stock Exchange, to that of a savings account. Since 1994, the average interest rate has gradually declined from a generous 6% to 1.18% in 20181. In fact, since 2014, the average amount that savers can expect to receive has stood below the rate of inflation2, implying that in real terms their purchasing power is now eroding. On the other hand, the average annual return of the FTSE All Share Index over the past 25 years was 6.75%, amounting to a total capital growth of 4.12% over this period3. Such returns may seem remarkable given the economic downturn and market turmoil, which took place just over a decade ago. However, it is a strong illustration of how a long-term investment horizon and the power of compounding can limit the negative effects of even the most significant market fluctuations.
If you had invested GBP5,000 for the last 25 years:

Past performance is not indicative of future returns.
Source: Swanlow Park; Bloomberg as at December 2018.
Despite these impressive statistics, only a small minority of Britons are actively participating in financial markets. Whilst not a perfect representation, the number of Stocks and Shares ISAs (individual savings account) is demonstrative; with only 21 million Britons (out of 66 million) having subscribed to such an ISA, 68 per cent are still missing the opportunity to grow their wealth4. Furthermore, engagement with financial investments is also split along the lines of gender, ethnicity and age.
Compared to men, a smaller proportion of women have opened a Stocks and Shares ISA, with many opting instead for the safety of its cash equivalent products5. Figures from the latest Family Resources Survey show stark differences in the level of savings and financial investments by ethnicity. Compared to other ethnicities, a larger proportion of white Britons are engaged with saving and financial investments
Savings and investment by ethnicity UK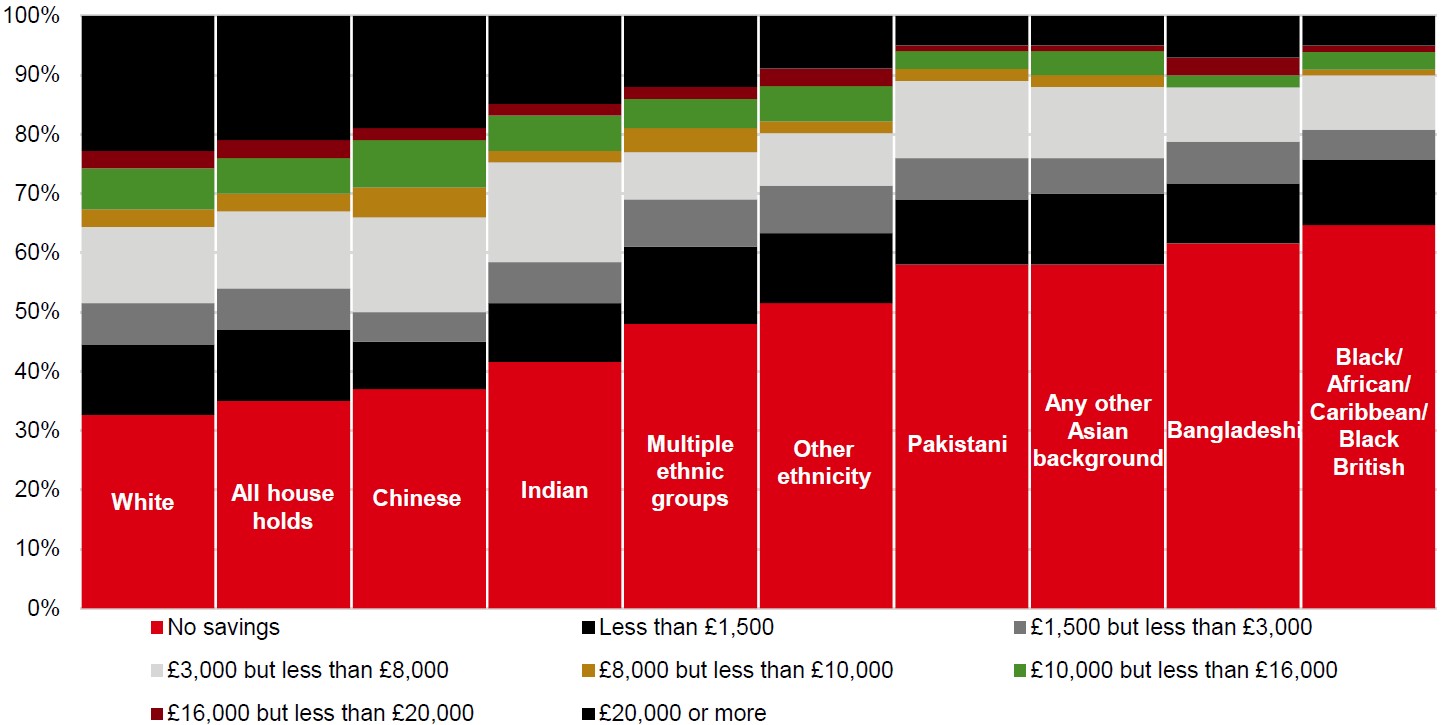 Source: Department for Work and Pensions, Family Resources Survey 2017/8, 28 March 2019.
Additionally, the vast majority of UK millennials do not have an investment portfolio, and may not be able to rely on financial advice, given that their modest investable assets offer limited commercial appeal to most advisors. This occurs despite the fact that millennials are the UK's largest living generation, and 66 per cent of them have been found to break ties with their family's financial advisor if wealth is passed down to them6.
Another point to consider is the way in which financial investments are traditionally framed in advertisements. There is strong evidence that this does not appeal to a diverse group of potential investors, and for many exacerbates the impression that "this is not for me".
Moreover, some innovations, such as robo-advice services, are beginning to encourage these investors to participate in the financial markets. However, they are not yet depicted as the investors that engage in both personal financial advice and independent decision-making simultaneously.
There are two key components to explain this: First, investors have proven to be weary of making decisions surrounding large sums of money based solely on the impersonal guidance offered by a robo-advice service. Second, to seek out such services, someone must already be familiar with the idea of investing.
Noticeably, there is much to be done in including those who stand to benefit from the financial investments, whatever their reasons might be. As an asset manager, we think that raising awareness and encouraging debates might help us inch towards progression in inclusion and participation in financial markets.